VELES Club, a closed-door community of VELES Capital's clients and partners, holds its first meeting
13 December 2019 22:17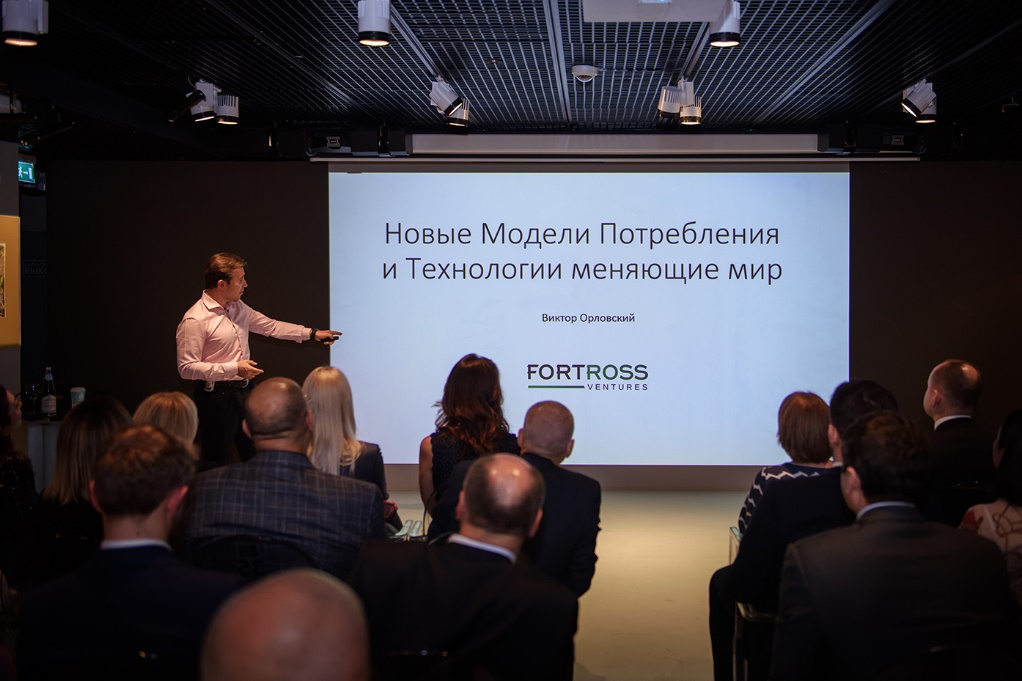 "The future is today" was the keynote of the first-ever meeting held by VELES Club, a closed-door community of VELES Capital's clients and partners. The club is expected to become a platform for regular meetings with authoritative experts in business, finance, science and art.
Viktor Orlovsky, Managing Partner of Silicon Valley-based Fort Ross Ventures, shared his expertise with the audience at the meeting. The participants discussed possibilities offered by the venture market, prospective areas that are expected to see the birth of new unicorns – startup companies valued at $1 bln, as well as drivers behind their impressive performance.
Viktor Orlovsky spoke about new consumption models and technologies that are rapidly changing the world as the development of IT products is gathering pace and becoming considerably less costly. He also revealed secrets of discovering innovative ideas before they turn into the mainstream and stop bringing attractive profit, as well as shared his opinion on disruptive innovations that may occur in most unexpected places and the difference between genuine and fake innovations. Orlovsky mentioned the Boeing Corporation while talking about the inevitable need for business transformation: "Boeing has to invest in virtual reality (VR) technologies, otherwise VR will kill Boeing because people will not have to travel by air to make business trips, they will simply conduct all business meetings using VR gadgets – people will feel like gathering in one room while staying in different parts of the world."
The expert went on to talk about lessons of the 2019 year, such as the well-expected failure of the WeWork coworking network that did not manage to adopt an innovation-integrated business model, as well as the rise of Impossible Foods, one of the plant-based meat alternative producers that are expecting the industry boom against the backdrop of cattle breeding's negative environmental impact and a threat of global food shortage. Orlovsky eventually made a few remarks about the increase in the number of applications to support operation of distributed offices which are becoming increasingly popular both among startup and global companies.
Orlovsky singled out the main technology trends of 2020, such as internet access for everyone and everywhere, namely satellite constellations (Open Web, SpaceX), the launch of lab-grown meat sale in stores, the democratisation of supercomputing, simulation and neural network algorithms, the spread of voice assistants that manage home appliances, the communication among home appliances, the large-scale application of autonomous delivery robots, the start of massive application of blockchain-based smart contracts (primarily in trade finance and other finance-related areas), the launch of the first VR/AR kits that could substitute for smartphones and the first commercial mind-reading device. "You barely start feeling hungry – and the food is already heated up," Orlovsky said.
After the business meeting the guests could enjoy a tour around the exhibition "The Life and Adventures of Anatoly Zverev", which featured more than 250 graphical works and paintings from the private collection of Dmitry Apazidis, a unique valuable selection of works created by Zverev during the early years of his career.
Fort Ross Ventures is focused on investment in US, Israeli and Russian startup companies during series B and C rounds. They target companies that operate in such areas as fintech, cloud technologies, artificial intelligence, internet of things, security and marketplaces. The total amount of commitments in the funds managed by Fort Ross Ventures exceeds $335 mln. The fund has established partnership with Sberbank, Rambler, Megafon, MTS, NLMK, X5 Retail Group. Viktor Orlovsky used to be in charge of IT transformation and R&D at Sberbank.
VELES Capital is an investment boutique that has provided professional investment services to high-net-worth individuals for almost 25 years. The company's infrastructure allows it to conduct a full cycle of wealth management. VELES Capital has been named one of the top 10 family offices (according to Forbes, September 2015).